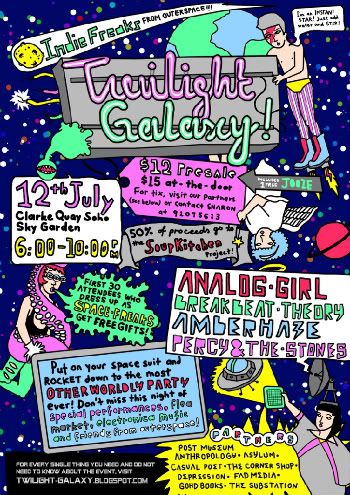 Get ready your astro-suit for this:
This is not just another party under the stars, it is AMONG them! Twilight Galaxy is an eccentric new dimension of fun, bringing you the best of the local electronica music acts, exciting out-of-the-world food, kickass alien merchandise and friendly beings from other planets.
Be here to catch the otherworldly performance by:
ANALOG GIRL
AMBERHAZE
BREAKBEAT THEORY
COSMIC ARMCHAIR
PERCY & THE STONES
50% of our proceeds go to the
Soup Kitchen project
, which gives free food to the poor every Monday, and Post-Museum which supports local artists.
Get your golden ticket* to outerspace at $12 presale from ($15 at-the-door):
POST-MUSEUM
/
FOOD #03
ANTHROPOLOGY
ASYLUM
CASUAL POET
THE CORNER SHOP
DEPRESSION
FAD MEDIA
FRONT ROW
GOHD BOOKS
(but they'll be closed from 26June-16July)
THE SUBSTATION BOX OFFICE
As it is a theme party, attendees are strongly encouraged to dress up as anything outerspace-ish. First 30 attendees who dress up as according to theme will get gifts. Get those creative juices churning!
*Includes 1 free booze for attendees >18 y/o, or 1 free juice for the younger ones.
For maps, directions, venue preview, artiste profiles, info about our beneficiary, playlists and dedications, dressing tips, everything else, visit our blog at
www.twilight-galaxy.blogspot.com
We're also on
facebook
!
UPDATES!!
COSMIC ARMCHAIR WILL BE PERFORMING FOR OUR EVENT.
WE ARE HAVING A PROMOTION FOR THE MONTH OF JUNE! TICKETS ARE $10 EACH THIS MONTH!
TICKETS ALSO AVAILABLE AT FRONT ROW NOW.
Possibly x-posted